Today's higher education leaders share their stories and insights about leadership in the academy. Join host Jay Lemons and his guests for thoughtful conversations and interesting perspectives on leadership. Leaders on Leadership is brought to you by Academic Search and the American Academic Leadership Institute, who together support colleges and universities during times of transition and through leadership development activities that serve current and future generations of institutional leaders. For more information, visit us at www.academicsearch.org.
Episodes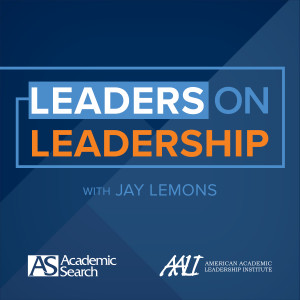 Wednesday Dec 01, 2021
Wednesday Dec 01, 2021
Jay talks with Dr. Javier Cevallos, President of Framingham State University, who talks about the role and impact of AASCU institutions in meeting the needs of their local communities. He shares his thoughts on leadership and identifies humility and honesty as being two critical attributes of good leaders. He also discusses how important it is for leaders to build a highly skilled team of individuals who share the values of the institution and to develop a network of peers through participation in leadership development programs. Interview recorded in October 2021.