Today's higher education leaders share their stories and insights about leadership in the academy. Join host Jay Lemons and his guests for thoughtful conversations and interesting perspectives on leadership. Leaders on Leadership is brought to you by Academic Search and the American Academic Leadership Institute, who together support colleges and universities during times of transition and through leadership development activities that serve current and future generations of institutional leaders. For more information, visit us at www.academicsearch.org.
Episodes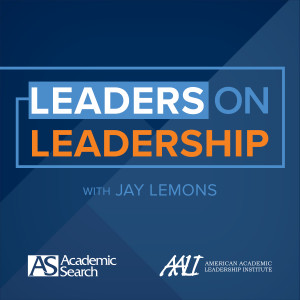 Tuesday Jul 06, 2021
Tuesday Jul 06, 2021
Jay is joined by Dr. Jo Allen, who talks about her path to the presidency of her alma mater, Meredith College. Dr. Allen discusses Meredith's anti-racism initiative and shares some of the successes and challenges the campus community has faced in this effort. In addition to offering her thoughts on the importance of balancing confidence with humility as a leader, she discusses the value in taking time to reflect and learn from your leadership experiences.